Temporary Accommodation Campaign project, what is it all about?
There are lots of people living in temporary accommodation. Lots of the people in temporary accommodation are living in properties that are not in good condition. We need to change that so people who are vulnerable and experiencing homelessness are not forced to live in bad quality housing.
When we were setting up this campaign someone told me that they had moved into long-term housing and still wanted to be involved as they wished the "journey hadn't been so hard" for them and their young family. The journey hadn't just been hard because they were experiencing homelessness, it was also made incredibly hard by the bad quality housing they had to live it and the anxieties that were caused by living in 'temporary' housing when you are trying to look after yourself and in their case a young child.
This campaign project is resident led and we have asked key politicians and heads of services in Croydon and Wandsworth to be involved in this initiative to make the progress easier and quicker and for the benefit of people who are part of Croydon and Wandsworth and are experiencing homelessness.

Are you living in temporary accommodation in Croydon or Wandsworth?
If you are in Croydon, we are at the South Norwood Community Kitchen on the 1st Thursday of the month sharing lunch and campaign planning from 1pm. The community kitchen is at 44b Portland Road, South Norwod, SE25 4PQ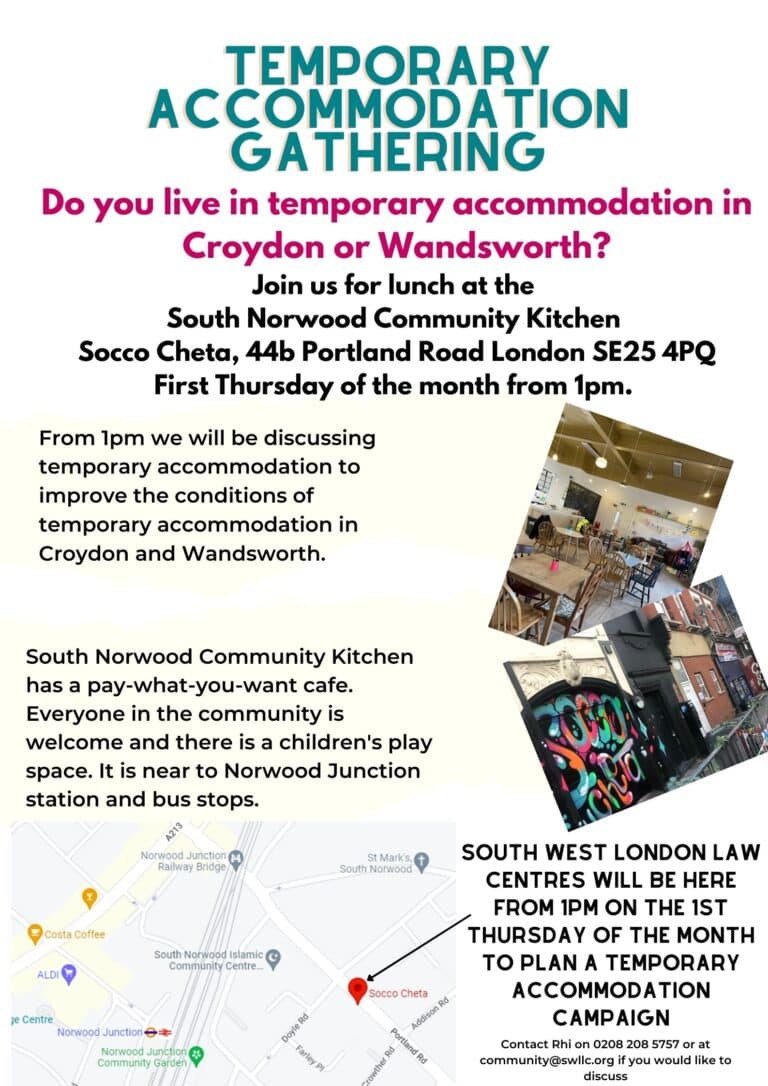 If you are in Wandsworth in temporary accommodation we are at Home Café, St Andrew's, Garratt Lane, London SW18 4SR. This is also a community café and we will be here sharing breakfast from 10am planning our temporary accommodation campaign. Children are welcome at both community cafes.
There are formal town hall temporary accommodation forums that take place every 3 months and the monthly action meetings influence these forums.
If you live in temporary accommodation in Croydon or Wandsworth come to our monthly action meetings. If you would like to discuss this more contact Rhi, the Community Engagement Manager, at South West London Law Centres at community@swllc.org or on 0208 208 5757.