Pro Bono Week 2023 at SWLLC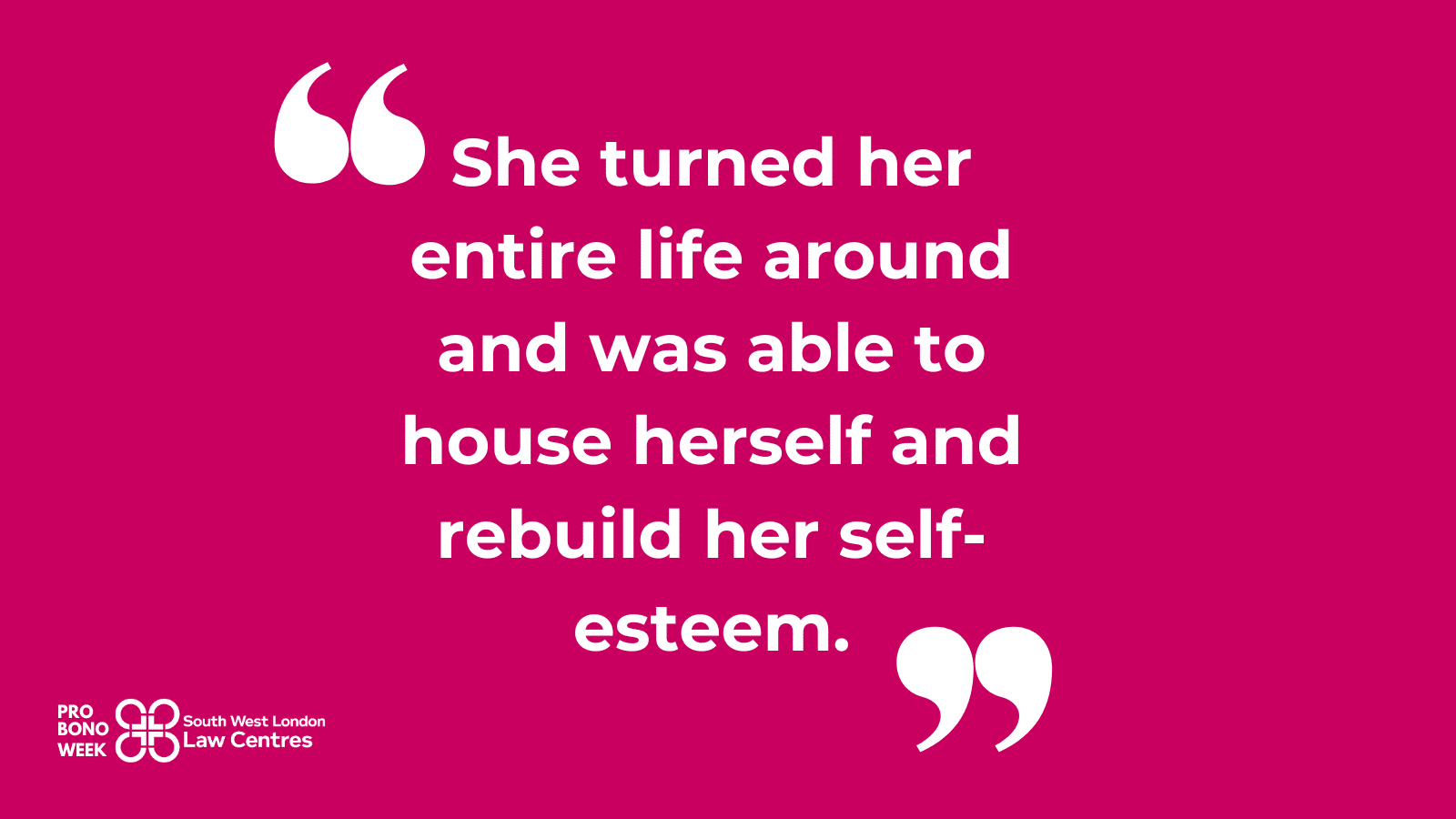 The 22nd annual Pro Bono Week in the UK, set to take place from 6th to 10th November 2023, is a celebration of the voluntary contributions made by legal professionals and law students across the nation.
Pro Bono Week highlights the profound impact that volunteer lawyers and law students have on the lives of those who seek their assistance. As part of this movement, our South West London Law Centres (SWLLC) runs a Volunteer Lawyers Programme, which runs up to 16 advice appointments each week, and provides free one-off advice to the communities we serve. These are currently by phone and involve more than 400 lawyers who volunteer with us each year.
Through our programme, we get to work with dedicated volunteer lawyers and help vulnerable individuals find direction in the midst of confusion about a range of legal challenges:
"The advice I give where it is being taken, the clients do achieve good results. This can often be life changing for them – seeing their children, having their children being returned in their care or an abuser being stopped from carrying out more abuse," says Sital, a volunteer Family solicitor at SWLLC.
"I assisted a client where she was suffering severe domestic abuse and her ex-partner was threatening to take the children abroad without her permission and not [let her] see them again. I managed to help her to stop this from happening, obtaining orders for the father not to see the children, taking them anywhere without the client's consent and orders for them to live with her. She [the client] turned her entire life around and was able to house herself and rebuild her self-esteem."
Sital helped more than 147 clients last year alone, and her 10+ years of dedication volunteering at our law centres represents the essence of our mission, to build a community and future where access to justice is no longer an issue in need of solutions. "I get a huge satisfaction that I am making a difference … This is my way of giving something back to the community and to people who truly need help and have nowhere else to turn to."
David, volunteer solicitor at SWLLC, shares, "No matter how bad a day I have had at work, I always feel better for having given pro bono advice … professionally, it has meant I have had to develop my skills at listening carefully to the client's problem they want to discuss understanding it can be difficult for them to articulate exactly what the problem is and to provide the back up paperwork. I have to be very careful to avoid using jargon as well as always working on how best to deliver the advice I am giving in the most clear and understandable way possible."
Reflecting on his volunteer work, David highlights the importance of providing a listening ear to clients. "Clients are very grateful for being 'heard,' and even if the advice I give is they do not have a case, it is important they have been able to discuss the problem with someone who wants to help and listen to them and 'has their back'."
David urges professionals and aspiring professionals in the field to not hesitate about putting in the pro bono work: "Do it! It is great for enhancing your skill set, your help is very much needed and you will get a lot of personal satisfaction out of it."
Zahreen, Personal Injury and Clinical Negligence volunteer solicitor at SWLLC, emphasises the significance of her work. "I had a client whose son had died as a result of suicide and she needed representation at the Inquest. I tried to ascertain what help was available to her … It is important work as even in the simplest cases clients do not know what is available to them in respect of legal services."
Mohammed, volunteer Immigration solicitor with our Law Centres reiterated "I have enjoyed being able to offer some advice to the community who need it. I feel fulfilled in doing my little bit for society. I am happy to be able to assist clients who did not know what to do or have the answers to their questions." Further suggesting to those who are thinking about doing pro bono work to: "Go for it! It helps the community, and especially in these hard times, not many can afford to pay for consultation."
The impact of SWLLC's free community advice clinics is evident. Last year, more than 3,200 people were advised by volunteer lawyers, with the value of the legal advice provided exceeding £1.5 million. Perhaps most impressively, 8 out of 10 people left the clinics with a better understanding of their legal issues.
Our services ensure local people on low incomes understand and uphold their rights, fostering a better future for them and their families. We are proud of the incredible transformations that our Volunteer Lawyers Programme continues to achieve.
Happy Pro Bono Week 2023!
Get Advice
If you need advice, please get in touch using our contact form, and we might be able to offer free initial advice through our volunteer lawyers. *No eligibility required – we are here for everyone!
Volunteer Pro Bono
If you are a qualified solicitor or barrister with experience in a specific area of law and wish to volunteer, please send your CV to volunteers@swllc.org.
Support Our Cause
You can make a significant impact by donating to South West London Law Centres. Your gift could help someone access life-changing advice and challenge unjust decisions. Every contribution, no matter the size, is essential in ensuring equal access to justice for all.